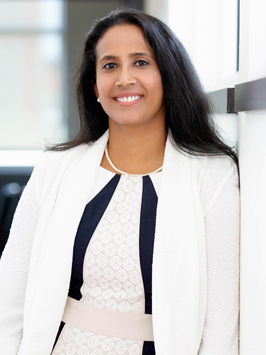 Dr. Sambathkumar joined TCIDA in 2017. She attended medical school at Madurai Medical College in India. She did her Internal Medicine residency at New York Methodist Hospital in Brooklyn, NY. Prior to becoming a specialist in infectious diseases, she spent 6 years practicing internal medicine as a hospitalist physician at Texas Health Harris Methodist Hospital Fort Worth (formerly called Harris Methodist Hospital) in Fort Worth, Texas. During this time, Dr. Sambathkumar became fascinated with the field of Infectious diseases decided to specialize in this area. She completed a fellowship in infectious diseases at University of Texas Southwestern Medical School in Dallas in 2017. She currently sees patients in several hospitals in Fort Worth and her specialties include clinical infectious diseases, HIV and transplant infectious diseases. She enjoys spending time with her patients and guiding them through the tough times of infection.
Dr. Sambathkumar is married with two sons, and she loves spending time with family and friends. She is an avid, enthusiastic and frequent cook and baker, and she has a special interest in the preparation of vegetarian dishes. Her other hobbies include experimenting with new recipes, traveling, and reading, and she enjoys meeting new people every day. She practices yoga and believes in healthy eating as the way to happy living.
Undergraduate
Place: Madurai Medical College, Dr. MGR Medical University, India
Year: 2002
Medical School
Place: Madurai Medical College, Dr. MGR Medical University, India
Year: 2002
Degree: M.D.
Place:New York Methodist Hospital, Brooklyn, NY
Year: 2006
Major/ Program: Internal Medicine
Place:New York Methodist Hospital, Brooklyn, NY
Year: 2008
Major/ Program: Internal Medicine
Place: University of Texas Southwestern Medical School
Year: 2017
Major/ Program: Infectious Disease
Place: American Board of Internal Medicine
Year: 2018
Place: American Board of Internal Medicine, Infectious Disease
Year: 2017
Place: State of Texas Medical License
Texas Medical Association
Tarrant County Medical Society