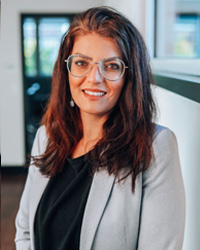 Leah is an Executive Director with over 20 years of clinical leadership experience in various industries: hospitals, outpatient clinics, and the military.
She has a solid background in implementing Compliance and Quality programs to optimize processes to ensure efficiency and minimize organizational risk.
Her career has been focused on client satisfaction while navigating rapid business growth in an environment that encourages learning and professional growth.
Leah was born and raised in Israel, earned her Master's in Management Health Administration in 2006 and her Bachelor's degree in 2001.
Leah joined TCIDA in 2021 as the CEO and built a strong leadership team to support the company's growth.
She enjoys spending time with her family and close friends in her free time, working out, and traveling.
Leah volunteers as the head of the Israeli scouts.